December 1, 2008
The modern human being is filled with unrealized gifts, abilities and talents.
Given the limitations and diversions of modern day society, we do not generally receive the training and experiences necessary for drawing out the higher, more noble qualities that exist in all of us. Technology and industrialization have become crutches that have kept us from having to realize our full innate abilities. Instead we have become dependent upon man made systems and hypnotized by materialism. In fact, most of us have become "disabled" in a way because we have no working relationship with the Divinity that resides within us. Everything in our consumerist culture pulls us outward and away from our true Divine inner nature. All of our intentions, goals, and actions tend to be of a material nature while our sacred inner relationship with the Divinity within is left to wither and die.
For this reason, my wife and I have made providing experiences, training and education geared towards forming an inner relationship with the Self or Master our top priority with regards to raising our children. We have always felt that our primary duty as parents was to provide the circumstances necessary for our children to uncover their true wealth, the Divine being that resides within them. By creating an enhanced environment through prayer, intentions, training and experiences, we are giving them the very best chance to become what they are meant to become and succeed in both their inner and outer worlds. With their inner Friend to guide them on their path, success will be assured and their true inner natures will be honored. Our ultimate goal is not to give them fish or even teach them how to fish but rather to provide them with all the tools and time necessary for them to find their "Inner Fisherman," so to speak. With their "Inner Fisherman" in the lead, a lifetime of fishing will come to them naturally and successfully.
Out of this inner compulsion my wife and I share, we have spent years developing spiritually based lesson plans and activities of various sorts for our children and, really, for all children. In order to make these opportunities potentially available to all children, we have published My Friend Within, and have a few more children's books to come that are along the same lines.
We are also now very happy to provide, at no cost, a complementary portion of our general lesson plan to people who purchase a copy of the book.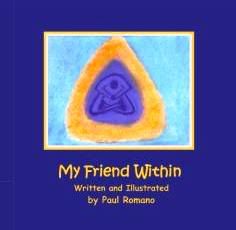 Anyone has purchased My Friend Within need only email us and request the My Friend Within Lesson Plan and we will send back the 30 page pdf file of activities, games and experiences designed to nurture the innate relationship between the child and their Friend who resides within them.
While it is true that children are born with the innate knowledge that God is within, any innate knowledge that is not triggered by models and experiences in the child's environment will tend to lay dormant or even disappear entirely. We parents should do our best to not let that happen, especially when it comes to our children's relationship with the Divine. It is our deep hope that as many parents as possible will get a copy of My Friend Within and use the Lesson Plan as well as develop activities of their own to further enhance this training for their children. In fact, we hope that someday nurturing a child's inner relationship will be considered as mandatory a requirement as teaching a child to read. There is no greater gift to our children than aiding them in allowing their true inner nature to emerge into useful practice.
Here is a five part video series featuring our now older children doing some activities from the Lesson Plan. In the first video, I talk a little more about about some of the ideas in this blog post while spending time with our cows out in the pasture.
In this video, the children read My Friend Within aloud.
In the next two videos, our children play The Exploration game. With their eyes closed, they use their senses, including their inner senses, to figure out what objects, food, smells and even some of our farm animals are. Even at their somewhat older ages, they still love this game and ask to play it.
This last video is some old video clips I found. The first is of the children doing one of the circle exercises from the Lesson Plan. The second clip is from three years ago when our youngest son, then three years old, read a copy of My Friend Within back when it was called He Sits.
I have watched this last video five times in the last few days and I still am filled with joy and laughter each time I see it. I wish for all parents, teachers and children to find their own joy as they connect with their eternal Friend within.
From the rustling leaves of the Grove,
Paul